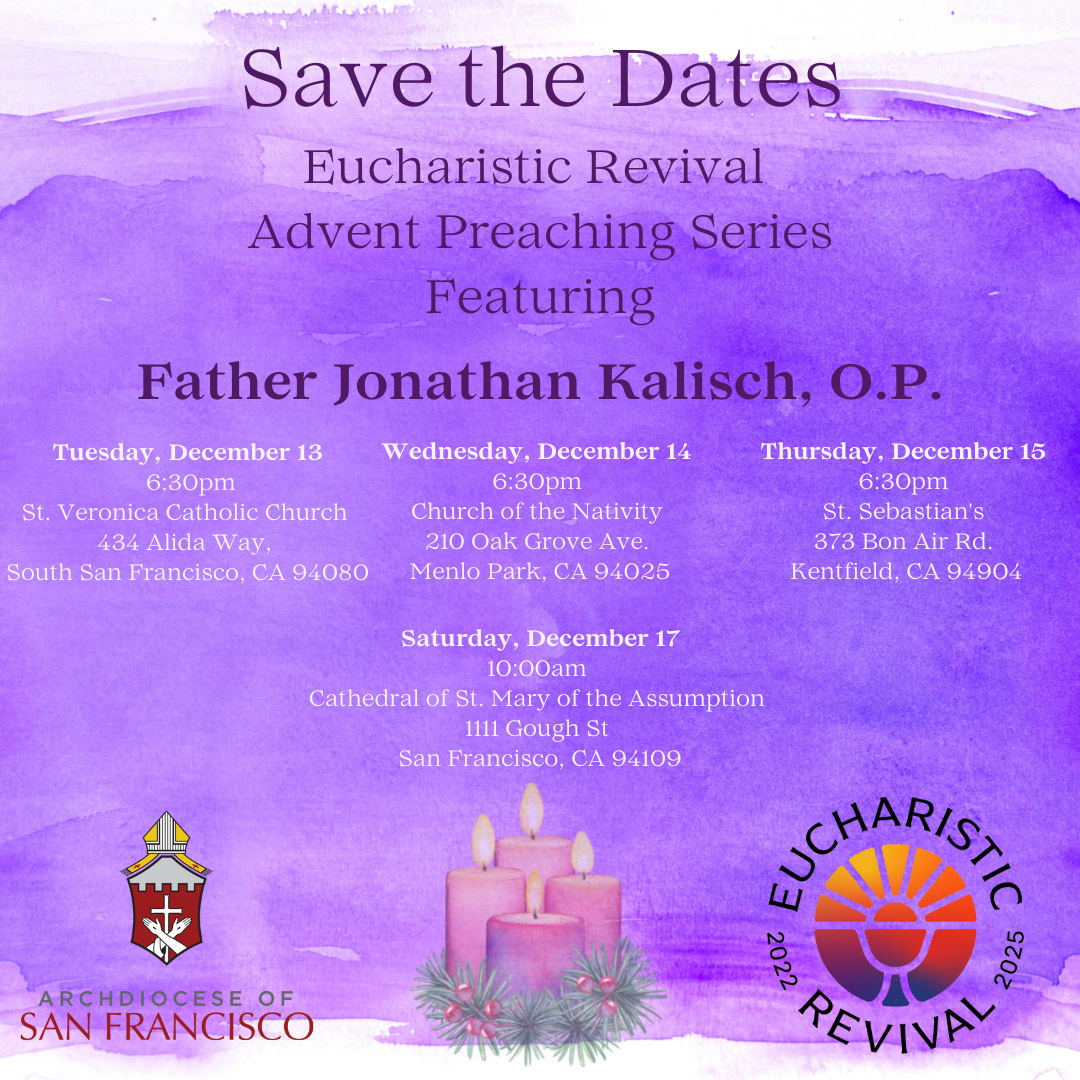 See attached Fr Jonathan's Kalisch bio.
Walk for Life West Coast 2023 
Join fellow Catholics and Pro‐Lifers from all over California and beyond as we stand up for the littlest among us at the 19th Annual Walk for Life West Coast in San Francisco on January 21, 2023. There will be Mass at 9:30 am celebrated by Archbishop Salvatore Cordileone at St. Mary's Cathedral. The rally begins at 12:30 pm in San Francisco's Civic Center Plaza, and the Walk, down the city's Market Street, begins at 1:30 pm. For more information about the Walk, visit www.walkforlifewc.com or call 415‐658‐1793.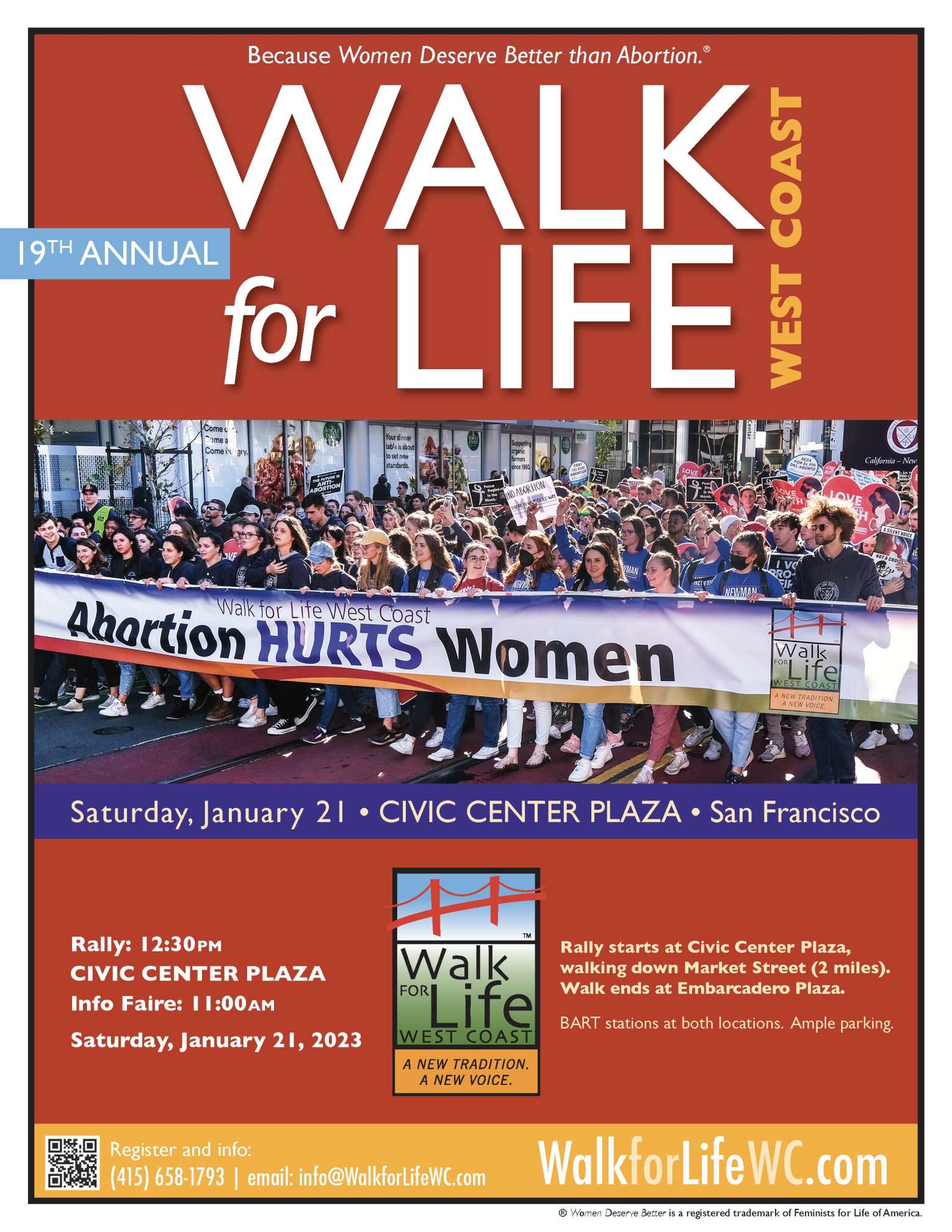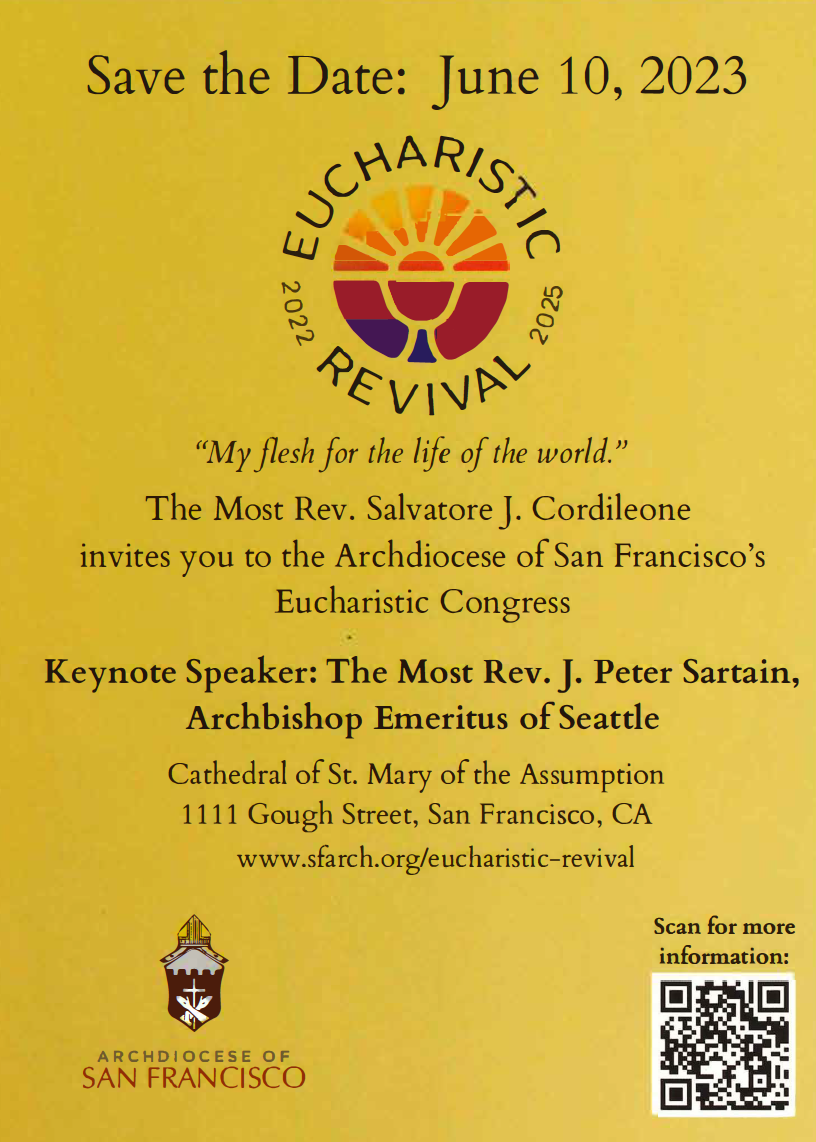 15th Annual Simbang Gabi Commissioning Mass
Come join us as the Archdiocese sends us forth on a mission to be this light of Christ!
15th Annual Simbang Gabi Commissioning Mass
Friday, December 9, 2022, 7:30 PM
Cathedral of St. Mary of the Assumption
Principal Celebrant: Father Dave M. Pettingill
Light Filipino Food Fare is served immediately after the Mass.
We encourage you to attend our Simbang Gabi Commissioning Mass, and to bring your own Filipino Christmas "Parol", and your family "Cresche" (or Nativity scene) to receive a special blessing after the mass.
The Simbang Gabi mass at St Mark will be on December 16, Friday at 7:00 PM.
Christmas Remembrance Service at Holy Cross Catholic Cemetery
When: Saturday, December 10, 2022, 11:00 a.m.
Where: 1500 Mission Road, Colma – All Saints Chapel – Holy Cross Cemetery
As we prepare for Christmas, Rev. Msgr. John Talesfore, Pastor of St. Matthew's Parish, will lead a prayer and candle-lighting service to remember our loved ones.  Ornaments decorated by the Girl Scouts from Our Lady of Mercy Parish will be available for those who wish to write a loved one's name or other message and hang them on the memorial trees.  This can be a difficult season to grieve; all are welcome to this service to find comfort and support.
Archdiocesan Adult Confirmation Classes
When: November 22 – December 20 (Dr. Andrew Salzman, Ph.D.)
Archdiocese of San Francisco – Pastoral Offices
One Peter Yorke Way, SF 94109
Adults 16 years of age and older seeking Confirmation to complete their Sacraments of Initiation may contact their parish to participate with Archbishop Cordileone on November 5 at St. Mary's Cathedral.  With permission from the parish, you are welcome to join the Archdiocese of San Francisco Office of Faith Formation for classes in preparation for the sacrament.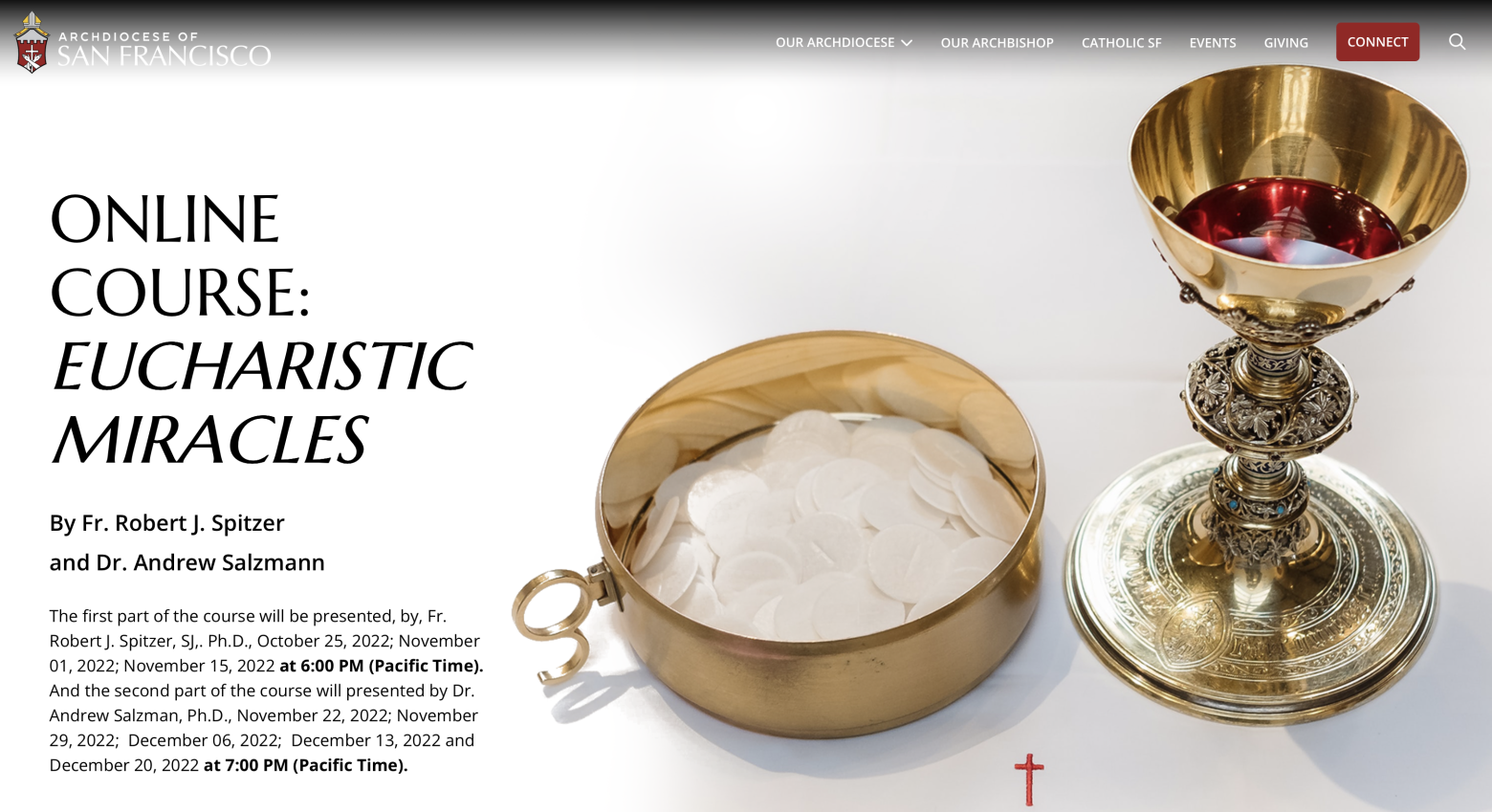 Belief in the real presence in the Eucharist among US Catholics is declining. Responding to this dilemma, retrieval of the Doctrine of Real Presence is necessary. To help us understand the Doctrine of Real Presence in the Eucharist, the Online School of Pastoral Ministry will is hosting an online course addressing this issue on Thursday evening:
The first course will be presented, by, Fr. Robert J. Spitzer, SJ, Ph.D., on Thursday evenings, 6:00-7:30 p.m. beginning October 25 through November 15.  The second course will be presented by Dr. Andrew Salzman, Ph.D., on Thursday evenings, 7:30-8:30 p.m. beginning November 22 through December 20.  See the attachments below for complete details on each session and biographies of both speakers.
Contact Deacon Fred Totah to register and receive a link for the course.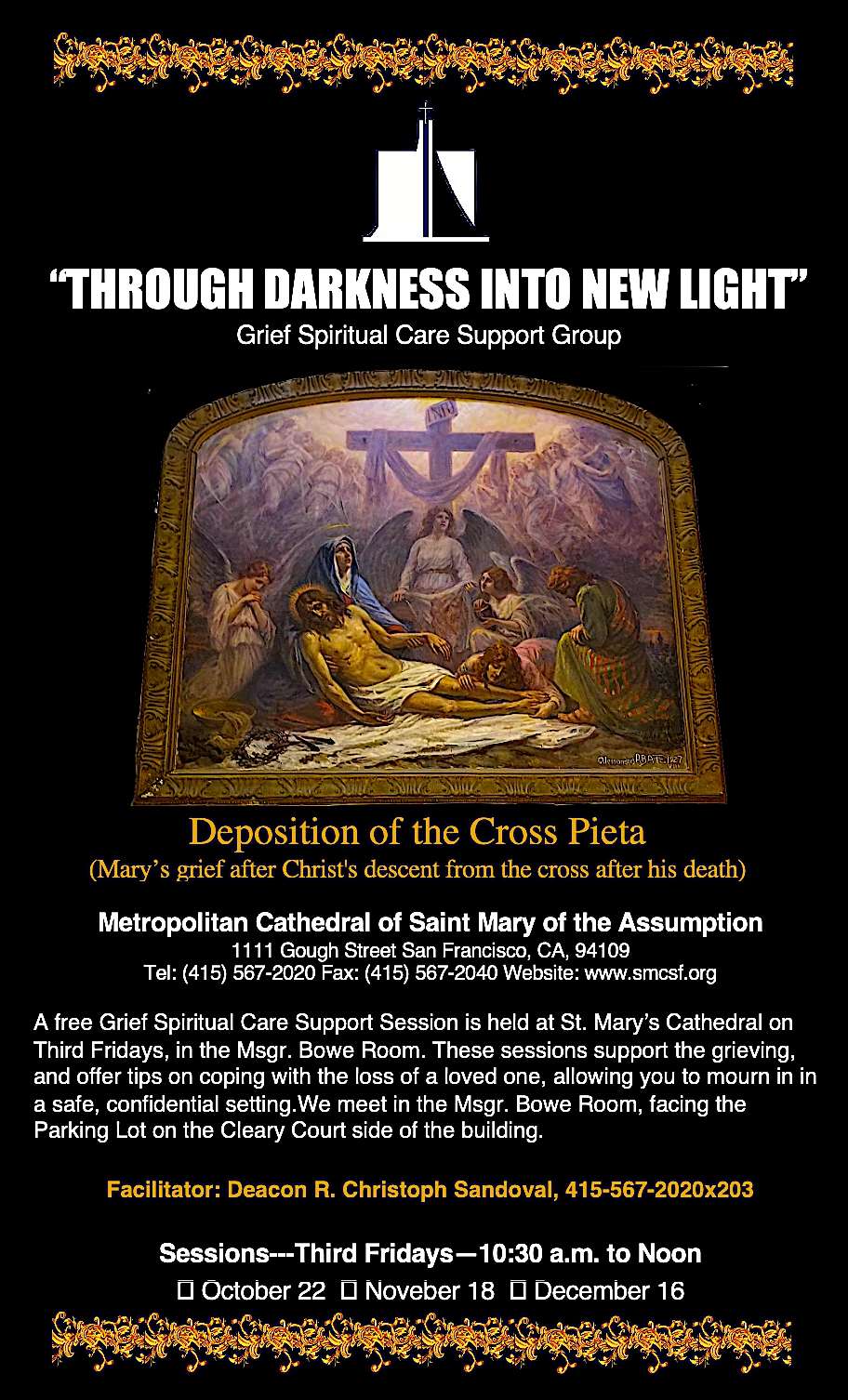 Archbishop Issues Letter to the Faithful on Proposition 1
St. Agnes Parish – Ignatian Companions 2022-2023 Program Now Accepting Applications
Ignatian Companions is a program of the Ignatian Spiritual Life Center in San Francisco and operates in the Jesuits West Province.  Companions meet at Santa Clara University, the Jesuit School of Theology in Berkeley, and at the Ignatian Spiritual Life Center.
Learn more from the following video.
Do you know someone struggling with infertility?
Modern medicine has made great strides in helping couples overcome infertility, by restoring reproductive health through the application of Natural Procreative Technology™. Yet many people, even in the medical profession, are still unfamiliar with it, even though it has a success rate of up to 75% in restoring natural fertility. For more information visit www.naprotechnology.com.
ON OUR KNEES
We invite you to join On Our Knees, a nationwide prayer initiative for the unborn, and for the U.S. Supreme Court as it reconsiders abortion law in America. 
We encourage you to take 15 minutes every Monday evening and join the Weekly Prayer Call at 5:30 pm (PST).
For more information click here
Contact:  Maria Martinez-Mont, Respect Life & Gabriel Project Coordinator |
Office of Human Life & Dignity | 415-614-5533 | prolife@sfarch.org. Weekly Prayer Call (833) 380-0736
Catholic San Francisco Magazine
Subscribe:  Here
Are you receiving the new Catholic San Francisco Magazine?   If you are a parishioner in the Archdiocese of San Francisco (San Francisco, Marin, or San Mateo counties), you are eligible for a free subscription.  To subscribe, please go to the above link and fill out the form — or email your name, address, and parish to circulation.csf@sfarch.org. 
Contact:  Valerie Schmalz | schmalzv@sfarch.org | 415-614-5571
Mental Health First Aid: 
Four Tips to Manage Burnout
Richard Collyer, Archdiocesan Mental Health Ministry      415-614-5593
According to the American Institute of Stress, nearly 83 percent of American workers experience work-related stress across the country. This stress causes approximately 1 million employees to miss work every day and can lead to drops in productivity. If left untreated, it can even lead to symptoms of depression and anxiety. This is why it's vital that you recognize how you are feeling and take time to protect your mental health with self-care. Self-care is an important tool to help manage symptoms of burnout and regain physical, spiritual, mental, and emotional balance. Gain information and support by reading "Four Tips to Help Manage Burnout" at MentalHealthFirstAid.org.