Catholic Charities Special Volunteer Opportunity for Attorneys
Provide Pro Bono Representation of Adults and Unaccompanied Children Seeking Asylum For more information, contact Douglas Stephens, dstephens@CatholicCharitiesSF.org
Catholic Charities Center for Immigration Legal and Support Services (CILSS) is presenting a two-part webinar to attorneys interested in providing pro bono representation of adults and unaccompanied minors in removal proceedings. The webinars will provide a foundational understanding of which attorneys can grow their pro bono practice and partner with CILSS in the representation of vulnerable populations.
Webinar 1: Intro to Removal Proceedings – Representing Asylum Seekers
August 25, 2022 -12:00 pm to 1:30 pm PDT
Registration Deadline: August 23
MCLE 1.5hrs CA
To Register:  

CLICK HERE

.
Webinar 2: Representing Immigrant Youth – Special Immigrant Juvenile Status
September 1, 2022 – 12:00 pm to 1:30 pm PDT
Registration Deadline: August 30
MCLE 1.5hrs CA
To Register: 

CLICK HERE

.
The mission of Catholic Charities Center for Immigration Legal and Support Services is to assist clients in achieving legal status and economic self-sufficiency, as well as, becoming fully active participants in the social and civic life of our communities. Our team of lawyers, legal assistants, volunteer lawyers, and volunteer interpreters provides free or low-cost immigration services to eligible persons.
St. Agnes Parish – Ignatian Companions 2022-2023 Program Now Accepting Applications
Ignatian Companions is a program of the Ignatian Spiritual Life Center in San Francisco and operates in the Jesuits West Province.  Companions meet at Santa Clara University, the Jesuit School of Theology in Berkeley, and at the Ignatian Spiritual Life Center.
Learn more from the following video.
Taizé Prayer Around the Cross Resumes at Mercy Center, Burlingame
Where: 2300 Adeline Dr., Burlingame
When: First Friday of the month, 8:00 pm
Mercy Center in Burlingame has resumed First Friday Taizé Prayer Around the Cross, at 8:00 pm in the Chapel. All are welcome. You are asked to wear a mask and to bring proof of vaccination and relevant boosters. Thank you!
If you cannot attend in person, we will continue to offer the virtual prayer service: Click Here.  Then follow Ongoing Offerings and choose Prayer in the Style of Taizé.
Mission Dolores Basilica
Mission Dolores Basilica continues its Ninth Season of the Second Sunday Recital Series. All recitals are at 4 pm and will be simultaneously live-streamed at:
www.facebook.com/missiondoloressf
Free admission.  Suggested donation of $10

COVID mask protocols will be observed.
St. Mary's Cathedral Sunday Afternoon "Musical Meditations" Live and Livestreamed
For more information, contact Mr. Chris Tietze at 415-567-2020, Ext. 213
Enjoy the longest continuously running organ concert series in San Francisco, and other instrumental and vocal recitals as well, Sundays at 4:00 pm.  These Sunday Musical Meditations are open to the public at the Cathedral (1100 Gough Street,
San Francisco) and are being livestreamed on the St. Mary's Cathedral YouTube channel, above.
Upcoming LIVE and Livestreamed
Sunday, August 14, 4:00 pm: ARI Piano Trio, with Jin Kyung Lim, piano

Sunday, August 21, 4:00 pm: Norm Paskowsky, Organ

Sunday, August 28, 4:00 pm: Edward Lee, Organ

Sunday, September 4, 4:00 pm: Katya Kolesnikova, Organ
On Fire Norcal Jam at Six Flags, Vallejo
When: Saturday, September 17, 2022, 9:00 am to 10:00 pm
Where: 1001 Fairgrounds Drive, Vallejo
This annual event is for Catholic High School Youth and Young Adults in their 20's and 30's. You don't want to miss out on this day filled with a fellowship at Six Flags Discovery Kingdom. See above for more information and to order tickets.
The Four Gifts – How One Priest Received a Second, Third, and Fourth Chance at Life
When: August 11 – 21, 202,  8 PM Thurs – Sat and 2 PM Sun
Hillbarn Theatre is proud and honored to bring to the stage The Four Gifts, a theatrical
adaptation of Father Joe Bradley's book of the same title. Father Joe got his calling early but confronted with difficult obstacles became lost in his spirit. If past usage of beer, marijuana,and cocaine didn't end his life, then certainly heart failure should have. Instead, by the grace of God, he is alive, clean, sober, and a functioning Catholic priest with another man's heart beating in his chest. We invite you to witness the arc of Bradley's life from addiction to ministry.
Proof of vaccine and mask wearing mandated.
TICKETS: $30 – $60
Youth & Senior prices available with valid ID.
www.hillbarntheatre.org – 650.349.6411 x2
Hillbarn Theatre, 1285 E. Hillsdale blvd, Foster City, CA 94404
St. Vincent de Paul's Catherine Center's Annual Fundraiser
When: Thursday, August 18, 5:30 pm (Virtual)
Here to Help:  SVdP of San Mateo County, Catherine Center's Holistic Approach Towards Incarceration, Addiction, and Mental Health Issues
Join us at our virtual venue as experts from San Mateo County discuss societal issues that are happening in your backyard – addiction, mental health, human trafficking, prostitution, and other elements that often result in incarceration.
Learn more about how SVdP's Catherine Center promotes real change for women recently released from jail or prison. This change benefits not only the women, but the families whom they affect, and our community as a whole. 
Benedict XVI:  Sons of Columbus
When: Sunday, August 14, 2022, 2:00 PM (Via Zoom)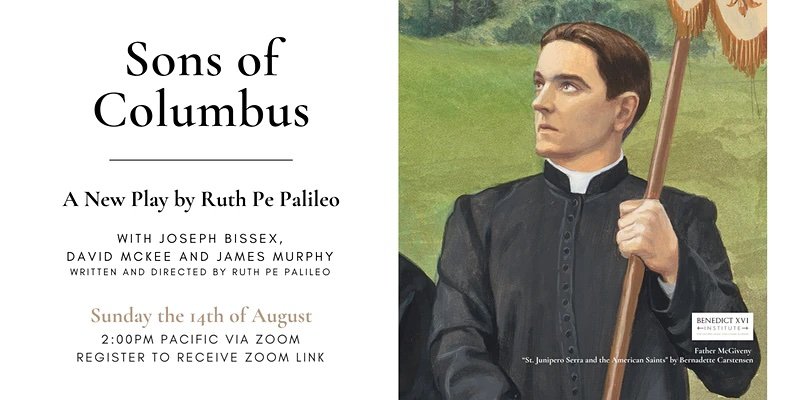 Benedict XVI:  Crucifixion! Epic New Bronze Art by Timothy Schmalz
When: Sunday, August 21, 2022, 3:00 pm
Where: Vallombrosa Center, 250 Oak Grove Avenue, Menlo Park
Canadian sculptor Timothy Schmalz thinks big.  His epic bronze statues on classic Christian themes are winning new audiences internationally. His latest project "The Stations of the Cross" will lay a string of Stations of the Cross from Ontario, Canada to the California coast, creating a new international pilgrimage trail for the faithful and art-lovers alike.  
Hear the sculptor talk about continuing the Catholic tradition of epic bronze sculpture.  Visit the site of what will become an international site of pilgrimage.   Hospitality and fellowship will follow.  Registration is free (above), although we ask for a donation of $25 from those who can reasonably afford it.  Patrons of the arts have already contributed the $1 million plus in funds for the sculpture itself and its transportation from Canada. Vallombrosa is seeking help with the cost of preparing the site installation.
Weekend Silent Retreat for Women: "A Living Encounter With Jesus"
Where: St. Clare Retreat House | 2381 Laurel Glen Road, Soquel, CA
1)  Friday, September 9 through Sunday, September 11
     To register:  Click here
2)  Friday, September. 23 through-Sunday, September 25.
     To register:  Click here
This silent retreat is with Fr. Dominic DeMaio, O.P. and Fr. Sergius Propst, O.P.  Theretreat theme is "The Grace of Healing Anxiety, Worry and Distress – Matt. 14:27: 'Do not be afraid…'"  We live in challenging times.  We may find ourselves feeling overwhelmed with anxiety, worry, and distress.  The good news of Jesus and the Scriptures lead us to peace and faith.  Take some time away for rest, prayer, and to deepen your faith.  Enjoy the beautiful forest and mountains at St. Clare Retreat House in Soquel.  Registration, details, and biographies of Fr. DeMaio and Fr. Propst are above.
Laudato Si' – K-12 Contest
Archdiocese of San Francisco Office of Human Life & Dignity
Deadline for entries is November 18,
Students K-12 are invited to participate in a new Laudato Si' Contest with cash prizes. This year's theme is Safe Water for All.   See the website, above, for instructions and resources.
Exploration of literature's greatest poem, Dante's Divine Comedy
Join us for this event by Anthony Nussmeier, Associate Professor of Italian and Director Italian at the University of Dallas. Initial lessons will introduce readers to
the beauty of the epic poem, as well as to the fractious history of Dante's Italy and his at-times contentious relationship with the institutional Church. Subsequent lessons will explore select canti from the three canticles (books) of the poem: Inferno, Purgatory, and Paradise.  Students will consider the role of the saints in Dante's epic including, among others:  St. Lucy, St. Thomas Aquinas, St. Dominic, St. Bernard, and St. Francis of Assisi – as well as their counterparts, the sinners residing in Hell, the obverse of all that is saintly.
Dates of the course:
July 26: 7 pm – 8:30 pm (PST)
August 2: 7 pm – 8:30 pm (PST)
August 9: 7 pm – 8:30 pm (PST)
August 16: 7 pm – 8:30 pm (PST)
August 23: 7 pm – 8:30 pm (PST)
August 30: 7 pm – 8:30 pm (PST)
For more information on Anthony Nussmeier,
CLICK HERE
ON OUR KNEES
We invite you to join On Our Knees, a nationwide prayer initiative for the unborn, and for the U.S. Supreme Court as it reconsiders abortion law in America. 
We encourage you to take 15 minutes every Monday evening and join the Weekly Prayer Call at 5:30 pm (PST).
For more information click here
Contact:  Maria Martinez-Mont, Respect Life & Gabriel Project Coordinator |
Office of Human Life & Dignity | 415-614-5533 | prolife@sfarch.org. Weekly Prayer Call (833) 380-0736
Catholic San Francisco Magazine
Subscribe:  Here
Are you receiving the new Catholic San Francisco Magazine?   If you are a parishioner in the Archdiocese of San Francisco (San Francisco, Marin, or San Mateo counties), you are eligible for a free subscription.  To subscribe, please go to the above link and fill out the form — or email your name, address, and parish to circulation.csf@sfarch.org. 
Contact:  Valerie Schmalz | schmalzv@sfarch.org | 415-614-5571
Mental Health First Aid: 
Four Tips to Manage Burnout
Richard Collyer, Archdiocesan Mental Health Ministry      415-614-5593
According to the American Institute of Stress, nearly 83 percent of American workers experience work-related stress across the country. This stress causes approximately 1 million employees to miss work every day and can lead to drops in productivity. If left untreated, it can even lead to symptoms of depression and anxiety. This is why it's vital that you recognize how you are feeling and take time to protect your mental health with self-care. Self-care is an important tool to help manage symptoms of burnout and regain physical, spiritual, mental, and emotional balance. Gain information and support by reading "Four Tips to Help Manage Burnout" at MentalHealthFirstAid.org.