Ministry Spotlight
Throughout the year, we highlight different ministries to get to know what each one does for our parish, and provide options for how you can be an active member of the parish, yourself! This week, we highlight the Legion of Mary. The Legion of Mary is a worldwide lay Catholic organization whose members are giving service to the Church on a voluntary basis.
Click
HERE
to learn more!
Second Collection on May 28/29 – Catholic Communication Campaign
The Campaign helps the Church spread the Gospel message in the U.S. and in developing countries using modern media tools to inform, inspire, and enlighten.
Half of all donations to the CCC collected in your diocese stay in your diocese to support your local communications needs, such as radio and television programming and diocesan publications.
Archbishop Hartmayer invites support for the Catholic Communication Campaign in this video.  Thank you for your generosity!
The Synodal Journey – Pope Francis Invites Your Voice
What: Concert and Roundtable
When: Wednesday, May 18, 2022 // 6:00 PM – 8:00 PM
Where: Saint Agnes Church, San Fransisco
Join us for beautiful music and engaging discussion! Read more on this week's Flocknote.
OUR MISSION
We restore dignity to people returning home from prison by providing scholarship stipends to empower students to achieve their academic and career goals.
Click HERE to get your ticket at $20 per person.
Click HERE to read the article on the event.
Bible and Rosary Drive
https://sfarchdiocese.org/bible-and-rosary-drive/
The Restorative Justice Ministry is currently holding a Bible and Rosary Drive, collecting monetary donations to purchase Bibles in English and Spanish and rosaries for the men and women in the San Francisco jails. The items will support the individuals in their faith journeys as part of the ministry to those in the jails.
A donation of $12.50 will purchase one Bible, and a donation of $50 will purchase a pack of $100 rosaries. Please make the donation above. Please note that at this time we cannot accept in-kind donations of Bibles and rosaries due to guidelines at the jails. Thank you for your generosity.
When: Sunday, May 15, 2022 (3:30 PM – 4:30 PM)
Tolton: From Slave to Priest
Thursday, May 19, 2022, 7:00 pm
St. Raymond Church – School Gym, 1100 Santa Cruz Avenue, Menlo Park
Contact:  Angie Robbiano | 650 323-1755 | 
dirofops@straymondmp.org
A powerful live production based on the life of Fr. Augustus Tolton, the first African American Priest. This compelling true story of courage, forgiveness, and reconciliation resonates deeply with modern American audiences.  Bishop Joseph Perry of Chicago, the postulator for Fr. Tolton's canonization cause, is calling Tolton a production that will "inspire a new era of peace, hope, and forgiveness in America."  Tickets are $15 per person. Sign up at the link above.
Save the date!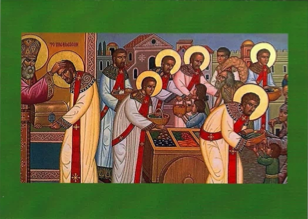 Ordination to the Permanent Diaconate of Russ Wertenberg
on May 28, 10:00am
The Archdiocese of San Fransisco
requests the honor of your presence at the 
Ordination to the Permanent Diaconate
Archbishop Salvalvatore Corleone
Saturday, the twenty-eighth of May
Two thousand and twenty-two
at ten o'clock in the morning
Cathedral of Saint Mary of the Assumption
San Fransisco, California
The Biblical Grounding of the Holy Father's Thinking — 
Laudato Si' and Fratelli Tutti Classes
Thursday Nights at 07:00 pm beginning April 19, 2022 (Online)
Classroom Webpage:  

Click Here.

 (Must register above to get password.)
In his role as the primary teacher of the Church, Pope Francis has issued recently several important documents.  Chief among them are Laudato Si' (On Care for Our Common Home) and Fratelli Tutti (On Fraternity and Social Relationship).  The talks in this short series will investigate some of the biblical groundings of the Holy Father's thinking.
Laudato Si'
April 19 — Our attitude toward the rest of the natural world springs from our understanding of what it means to be a human being. (Gen 1:26-28; 3:5)
April 26 — At the very foundation of our creaturehood, we are connected with all other Earth creatures (Gen 2:7, 9, 19, 22-23; 9:9-10; Hos 2:20)
May 3 — As Earth creatures, we are totally dependent on Earth, and in many ways, Earth is dependent on us (Hos 2:10-11; Exod 20:11 (Deut 5:15); Exod 23:10-11; Lev 25:1-4)
Fratelli Tutti
May 10 — "Who is my Neighbor?" (Luke 10:25-37)
May 17 — Differences should not separate us (Gal 3:28)
May 24 — "In virtue of their baptism, all the members of the People of God have become missionary disciples" (Matt 28:19; Mark 16:15)
ON OUR KNEES
We invite you to join On Our Knees, a nationwide prayer initiative for the unborn, and for the U.S. Supreme Court as it reconsiders abortion law in America. 
We encourage you to take 15 minutes every Monday evening and join the Weekly Prayer Call at 5:30 pm (PST).
For more information click here
Contact:  Maria Martinez-Mont, Respect Life & Gabriel Project Coordinator |
Office of Human Life & Dignity | 415-614-5533 | prolife@sfarch.org. Weekly Prayer Call (833) 380-0736
Catholic San Francisco Magazine
Subscribe:  Here
Are you receiving the new Catholic San Francisco Magazine?   If you are a parishioner in the Archdiocese of San Francisco (San Francisco, Marin, or San Mateo counties), you are eligible for a free subscription.  To subscribe, please go to the above link and fill out the form — or email your name, address, and parish to circulation.csf@sfarch.org. 
Contact:  Valerie Schmalz | schmalzv@sfarch.org | 415-614-5571
Mental Health First Aid: 
Four Tips to Manage Burnout
Richard Collyer, Archdiocesan Mental Health Ministry      415-614-5593
According to the American Institute of Stress, nearly 83 percent of American workers experience work-related stress across the country. This stress causes approximately 1 million employees to miss work every day and can lead to drops in productivity. If left untreated, it can even lead to symptoms of depression and anxiety. This is why it's vital that you recognize how you are feeling and take time to protect your mental health with self-care. Self-care is an important tool to help manage symptoms of burnout and regain physical, spiritual, mental, and emotional balance. Gain information and support by reading "Four Tips to Help Manage Burnout" at MentalHealthFirstAid.org.