a Fund Raising project for Our Parish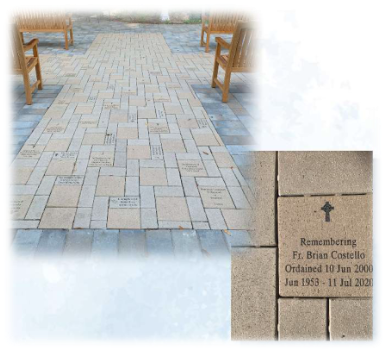 The Parish has launched an engraved personalized brick fundraiser for the long-term capital needs of our Parish Community!  The bricks will be placed in the plaza of the future Our Lady of Lourdes grotto.
The engraved bricks can be for any occasion — in memory of a loved one, honor someone special, gift for a wedding, anniversary, birthday, Christmas, or any special event or milestone like a graduation.
The Tax-Deductible Donations are as follows:
Pre-Construction:  $100 for a 4" x 8" brick and $200 for an 8" x 8"

Post-Construction: $150 for a 4" x 8" brick and $250 for an 8" x 8"
 
Net proceeds will go to the parish.
By purchasing one or more bricks, you will be investing in the future of St Mark and leave a lasting legacy with your words, Set in Stone!
Interest List:
If you wish to be included in the Interest List, please send an email to office@saintmarkbelmont.com and include the number of bricks and size, or call the parish office. 
Thank you for your support!